(Feature image courtesy of Rebecca Lynn @Pb_RebeccaLynn)
Aaaaaaaaaand we're back!
For those of you who aren't well-versed in the (admittedly short) history of #WittyTitty, here's the Cliff's Notes version: We post some funny stuff, then there are girls (or boys?) in various states of undress, and we make fun of them. Good times had by all; it's like the Chive's Chivettes but with more humor.
FIRST PITCH
Facebook broke the Internet. Yeah, it happened. Yeah, it was probably inevitable. Yeah, it's truly, pants-shittingly terrifying that something like adding a "Like" button to your website/blog/photo gallery/snuff film portfolio could include you in a truly world-ending cluster-foxtrot which throws us all back to the Myspace and Xanga days.
SECOND PITCH
Armed with this knowledge, would you quit Facebook for money? A 14-year-old girl, in a contract with her father, agreed to deactivate for six months for $200. Mayhaps there's hope for the younger generation, after all?
THIRD PITCH
<iframe width="480″ height="360″ src="http://www.youtube.com/embed/-KRJ-vp2jYo&#8221; frameborder="0″ allowfullscreen>
That happened. Today.
FOURTH PITCH
Fall Out Boy is BACK! Yes, this isn't quite funny, really, but I'm really effing excited about it.
Fine, fine, we'll make it funny. Assholes.
LAST PITCH
Concluding our list today will be a few funny recent tweets. These were a lot harder to find than you might think.
Brad and Angelina's master plan is finally revealed… Mind = Blown http://t.co/JPu46QEU—
Not Will Ferrell (@itsWillyFerrell) January 10, 2013
#INeedMasculismBecause i have no idea what feminism actually is but it terrifies me and i feel a primal need to oppose it—
Southern Cumfart (@dropkickpikachu) February 08, 2013
You're like my pinky toe. Small, cute, and odds are I'm going to bang you on the coffee table later. #cornypickuplines—
BLADE CRUZ (@MostDope_Blade) February 08, 2013
Well I guess V Day is upon us once again. You know where I'll be. http://t.co/D4Mrck6D—
Undeniably Gay Guy (@undeniablygay) February 08, 2013
My BM texted me and said she wanted some lingerie for v-day but she spelled it like "launderia". I'ma give her a dictionary instead.—
Rizzy… (@iLyRecords) February 08, 2013
Now, Your Meme of the Week:

Sexually Oblivious Female!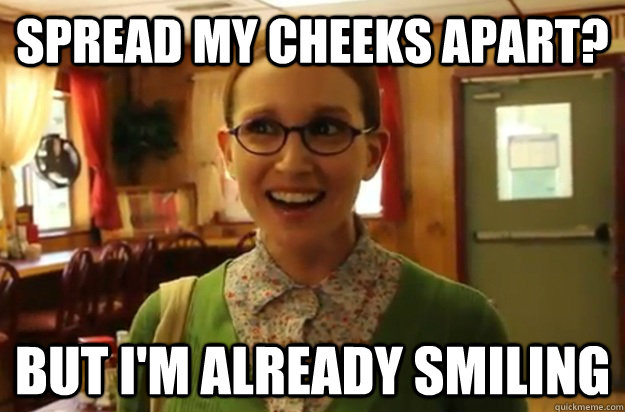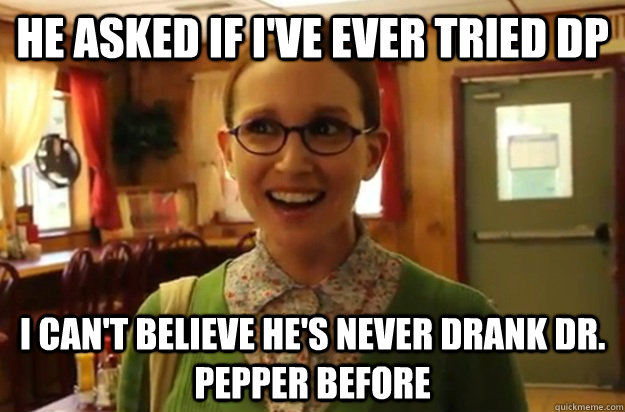 And, my personal favorite: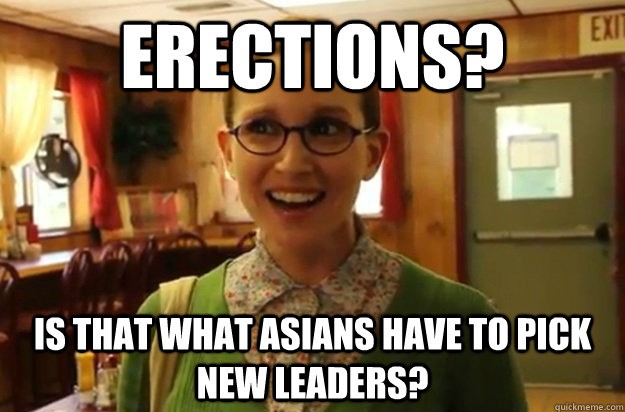 THE GOODS
(This week, and for the weeks to come, I'm going straight from Twitter!)
Morning horn dogs & happy Friday! I have a left over pic from yesterdays #thong set. A teasing #friskyfriday shot :* http://t.co/KN5taA8r—
Princess Assley (@Princess_Assley) February 08, 2013
Yes, that's "Princess Assley." One wonders if that's a stage name, of if her parents did actually want her to become a middling, pathetic semi-porn star on Twitter. I'm sure they're very proud.
I want her #friskyfriday #HBD http://t.co/Z7tlWgsy—
HOT BABES DAILY (@UpdatedHotties) February 08, 2013
I'm sorry, you've got a little…something…right, no, almost…to the left a little, no, higher, no, you know what? Let me. Oh, wait, it's not crumbs, it's depression.
#FriskyFriday @Playboy @PlayboyMagSA @Playboy_NL @playboy_france @PlayboySi @PlayboyMX @PlayboyAUSNZ @COEDMagazine http://t.co/sqWB2hHR—
Kelly Elizabeth (@MsKelElizabeth) February 08, 2013
I'm not sure what the one white fingernail is supposed to be, but eff you too, bitch.
One more @ZOO #zootwitties #friskyfriday rt please. . #handbra xx http://t.co/VHAgfAvB—
°~olive~° (@_have_faith_3) February 08, 2013
Yes, it's important to have faith. Faith that one day, your pink shag carpeting will hide the blood when your meth dealer shoots your ass.
@ZOO #FriskyFriday http://t.co/vxacVOv8—
Kimberley Roberts (@Kimberleyjader) February 08, 2013
"Oh, I'm sorry. I didn't see you there. Could you be a dear and wait while I go find my pants? Thanks."
Related articles